Hello from Jane
Welcome to the first issue of CFFC News – a new quarterly initiative for our many stakeholders across the government, community and corporate sectors. Here you will find news of what we're up to, links to research and information that might help you in your work, and invitations to collaborate with us as we all strive to enhance the financial capability of New Zealanders and, ultimately, help people retire with confidence.

Jane Wrighston
Mana Ahungarua / Retirement Commissioner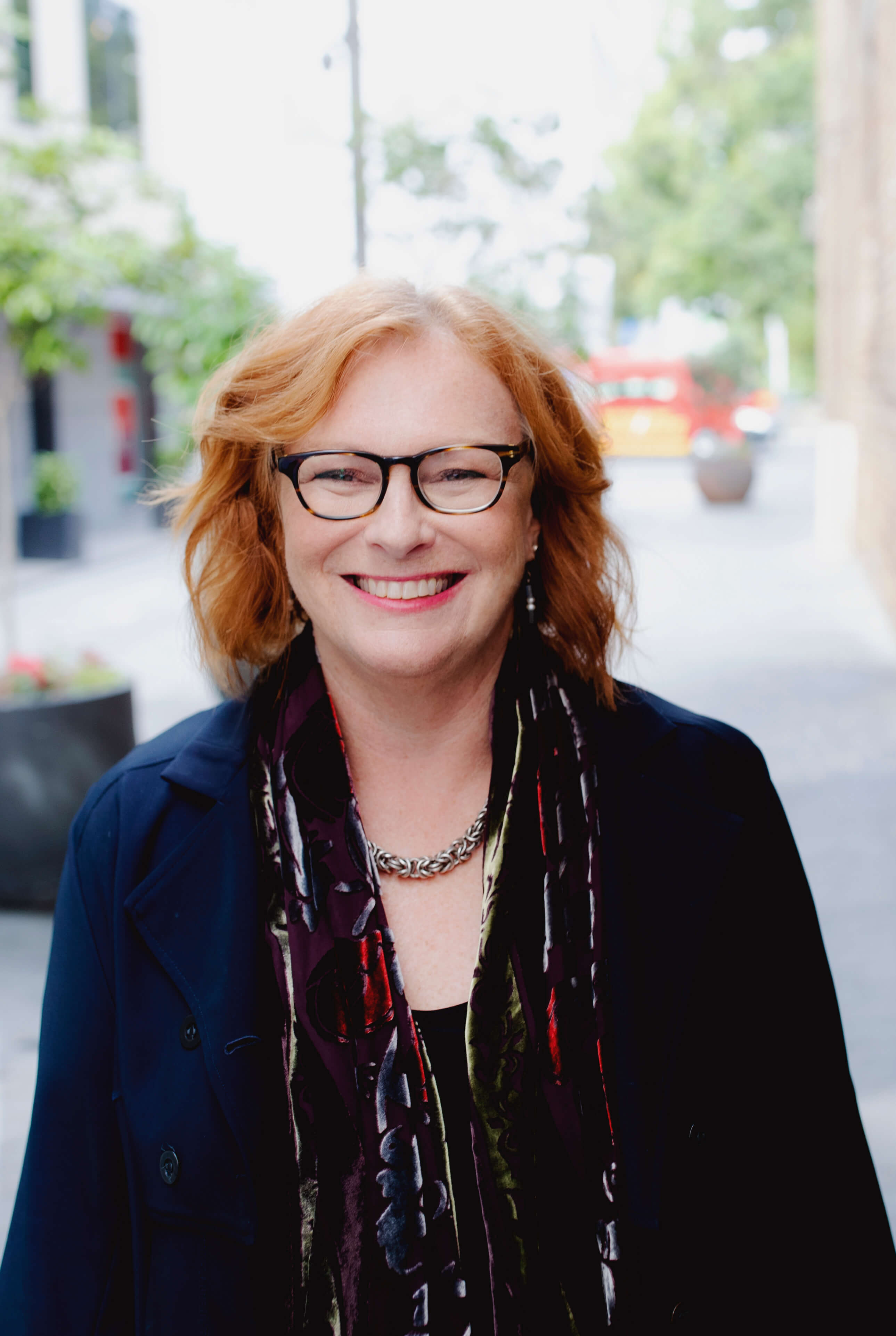 From Jane
---
I started in this role in February, a month before the first lockdown, so had to learn fast. I'm grateful to my Leadership Team (featured below) and many of you for your engagement and guidance as I've got up to speed and supported our organisation to meet the needs of New Zealanders during this tumultuous time. In addition to our consumer-facing work, we formulated a new strategy to shape our work, and restructured the agency to increase our emphasis on retirement policy and advocacy, our cultural competence, and better integrate marketing and service delivery. We have a fabulous team to drive our work, who are looking forward to working more with you in the months and years to come.
Speaking of which, we are busy reinvigorating the National Strategy for Financial Capability to unite the Financial Capability community by providing a framework for collaboration, knowledge sharing and common messaging. Project lead Brenda Leeuwenberg has more on this below – if you're not already signed up, please do join us.
I'm the first to admit that we can't do any of this alone. I pulled together an Expert Advisory Team to help me test and debate retirement issues as we formulate and comment on policy going forward. I was rather proud that our first achievement was producing the first Purpose Statement for New Zealand's Retirement Income System – something which had never been defined before and will provide a foundation for all our policy work to come. More on that below too.
We welcome the Hon David Clark as the new Minister of Commerce and Consumer Affairs and look forward to working with him.
My main aim for 2021 is to focus on the harder policy questions and make options and issues more accessible, so debate is better informed; and to align our financial capability work with others to have the most impact in helping New Zealanders.
Please do drop in and see us. We have new offices in Auckland and Wellington and are always keen to put the jug on and stop for a chat. Kanohi ki te kanohi, and this newsletter, are all part of you getting to know us better, and us getting to know how we can help you. We can achieve so much more if we work together.
Jane Wrightson
Mana Ahungarua / Retirement Commissioner
Our team
---


The CFFC Leadership Team, from left: Estelle Sarney, Communications; Peter Cordtz, Assistant Retirement Commissioner; Dr Kathie Irwin, Kaihautū; Jane Wrightson, Retirement Commissioner; Dr Suzy Morrissey, Policy; Nick Thomson, Financial Capability; Lyndsey Francis, Marketing; Nisha Keetels, Corporate Services.
The CFFC's leadership team is now complete with the recent arrivals of Dr Suzy Morrissey as Director, Policy, to drive our work in raising informed debate about retirement issues and in advising government, and Dr Kathie Irwin as Kaihautū. Kathie (Ngāti Porou, Rakaipaaka, Ngāti Kahungunu) will imbue our organisation with te ao Māori to help us better serve tangata whenua, and all New Zealanders.
The organisation's new staff structure took effect in July and is already having effect in increasing our focus on policy and advocacy while continuing our work in financial capability, research and leading a reboot of the National Strategy for Financial Capability.
To top off the year, we moved offices! Our Auckland base is now at 19 Victoria St, and we have a new Wellington space at 11 Chews Lane off Willis St. Please come and visit us – we'd love to show you our new digs and have a chat over a cuppa.
Farewell to Peter Cordtz
---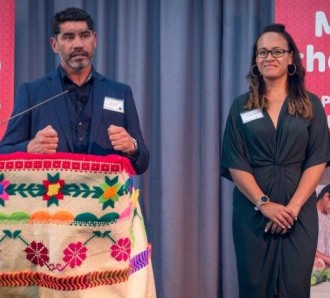 At the end of the year we will sadly farewell Peter Cordtz. Peter is known to many of you through his work on community partnerships, helping integrate financial capability learning into courses ranging from gambling and smoking cessation to home ownership pathways. Many families, particularly Māori and Pasifika, have achieved life goals thanks to education he has helped facilitate. In 2019 he took on the additional responsibility of acting Retirement Commissioner, ensuring the CFFC continued its work until a new RC was appointed, and the team completed the important three-yearly Review of Retirement Income Policies. We thank Peter for his dedication to the CFFC's mission, and wish him all the best for the future.
Peter has handed over his responsibilities to Ana Tu'inukuafe, our Relationship Specialist – Communities in the Financial Capability team. Ana has worked with Peter for a couple of years now and already has strong relationships in this space. Please reach out to her with any queries about our Sorted in Communities programme.
Peter has penned a note to thank those he's worked with over the years.
A few words from Peter …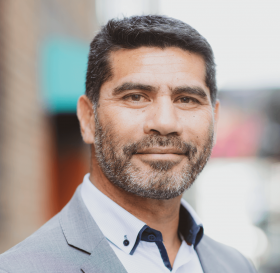 As I prepare to leave the CFFC and reflect on the evolution of the community mahi over the past five years, I find there's a lot to be proud of. I joined the CFFC in 2015 to lead our work with community partners and a focus on building CFFC's capacity to engage Māori and Pasifika stakeholders. We wanted to ensure our work was focused on the needs of all New Zealanders, including those most at risk of poor retirement outcomes.
In that time, we've successfully scaled up NGO pilot programmes via national partnerships that have seen financial capability embedded in support services provided by sectors targeting those communities.
While financial capability initiatives in smoking cessation and problem gambling services are now being driven by sector specialists, Whānau Ora and housing have continued to be key CFFC partnerships given the fit with our kaupapa - supporting New Zealanders to retire with confidence.
2019/20 has seen more of this effort connecting across multiple agencies, reflecting increased awareness of the value financial capability adds to others' objectives and a shared interest in improving outcomes for the same communities. While CFFC has long standing relationships with Tāmaki Regeneration, Vaka Tautua, Te Puni Kōkiri and Pasifika Futures, there is now a connection to the work with Kāinga Ora, iwi, Māori Whānau Ora and the Ministry for Pacific Peoples. Reported as community partnerships, this work also represents the National Strategy in action.
While I am moving on, the CFFC remains committed to these partnerships and the communities they serve. Ana Tu'inukuafe joined us in 2018 as Community Programmes Manager and in July this year, became Relationship Specialist - Communities within the new Financial Capability team. She joins the learning delivery team alongside the relationship specialists supporting workplaces, schools and kura. Reporting to Learning Delivery Lead Marc Harris, Ana's work will benefit from a direct connection to the full team's capability, including learning development and Sorted online specialists.
When I stepped away from the GM Community role in December 2018 to fill the Interim Retirement Commissioner role until February 2020, Ana drove community partnerships, ably supported by our lead community contractors Geoff Fariu and Donna Robinson. This 'baptism of fire' for her, means I leave confident that the community partnerships are in very capable hands.
It has been an honour to serve the CFFC kaupapa and our communities these past five years. I leave here proud of the work and grateful for the opportunity I had to lead an amazing group of people through 2019. This included responsibility for landing the triennial Review of Retirement Income Policies, offering us the opportunity to remind all what this mahi is about. He aha te mea nui o te ao? He tāngata, he tāngata, he tāngata - What is most important in the world? It is people, it is people, it is people.
Peter Cordtz, Assistant Retirement Commissioner
Annual Report
---
As most organisations will agree, the 2019-20 year was one of two halves. Delays in process due to COVID-19 mean that the CFFC's Annual Report is not quite complete, but we'd like to share some of the year's highlights with you: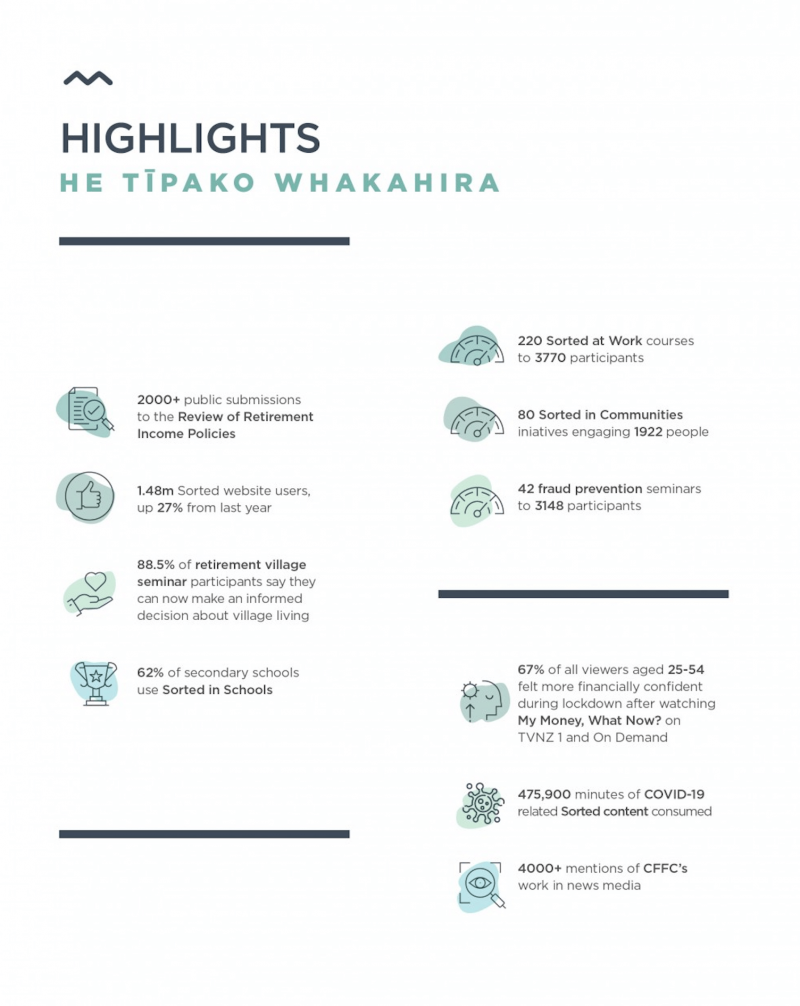 Rebooting the National Strategy for Financial Capability
---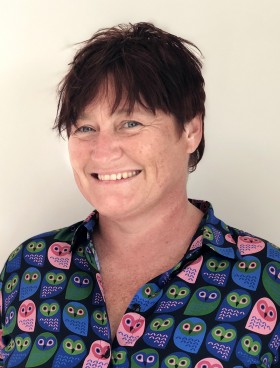 The impact of COVID-19 has made a joined-up approach to strengthening New Zealanders' financial capability more important than ever. We are in the process of refreshing the National Strategy for Financial Capability to help unite the financial capability community, by providing a framework for collaboration, knowledge sharing and common messaging.
National Strategy Lead, Dr Brenda Leeuwenberg, has been talking to stakeholders and partners across the sector about their work, seeking to identify what's working or not working, where there are gaps or overlaps, and what is most needed.
We want the strategy to reflect the work and needs of the sector, and we want to ensure that it is created together with the people who will be most impacted or likely to use it. Ideally we'd be able to have a national hui to workshop, debate and discuss the key issues and opportunities for the Strategy. Unfortunately, thanks to COVID, that's not a practical plan.
In lieu of a national hui we've organised a fortnightly webinar series to inform and engage with the Financial Capability community. Each session focuses on a different aspect of the National Strategy. We invite anyone with an interest to participate in the webinars. There is usually a half hour presentation about the key topic, followed by a series of breakout discussions with smaller groups. The feedback from these sessions has been really positive, it seems the community is keen to be engaged, to have the opportunity to connect and speak with each other, and to contribute ideas to the Strategy development.
The webinar sessions start up again in the new year, with the following scheduled:
11 February: Collective Impact Model – workshopping the use of CI as a means of delivering change
25 February: Funding structures and models in the hardship space
11 March: Funding models in the broader financial sector
25 March: Policy and Government – workshopping change that CFFC could advocate to Government with broad sector support
If you'd like to be involved, please get in touch with Brenda via brenda@cffc.govt.nz
We're incorporating your feedback and ideas now, and will check in with you as we go to make sure we're getting it right. As we define the vision, the outcomes and start looking at how the strategy becomes a living document, we'll be speaking with you all. We're doing this together.
Policy and research
What is NZ Super for? Purpose of NZ's retirement income system defined
---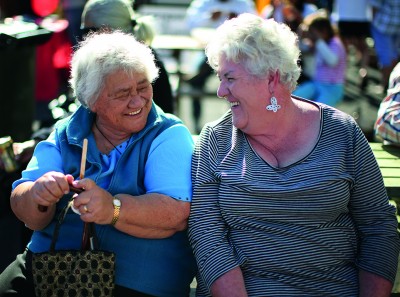 The first statement defining the purpose of New Zealand's retirement income system was released by Retirement Commissioner Jane Wrightson this quarter.
The statement acknowledges the dual role of Government and the individual in preparing for their retirement. It will help us serve New Zealanders and keep their retirement income needs front of mind when mooting or assessing any policy that might affect their standard of living in their later years.
This is particularly relevant for many Māori, whose disparity in living standards throughout their lives affect their quality of life as they age. We hope to influence progress in addressing these disparities before people reach retirement.
Register for our next webinar
---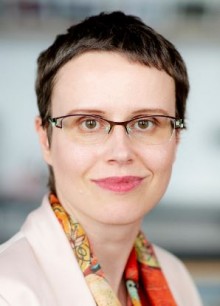 Our latest research on the impact of COVID-19 on New Zealanders' financial wellbeing will be released on Monday, 8 December. Register now for a webinar to go through the report, hosted by its author, the CFFC's Research Lead Dr Celestyna Galicki.
Tuesday, 8 December, 12pm-12.30pm
There will be time for questions and discussion following Celestyna's presentation
This survey is a follow-up to the one conducted during the first lockdown, and was undertaken during October. Comparisons between results of the two surveys are enlightening, showing some areas of improvement, and others of continuing concern.
Latest research: Financial Knowledge of New Zealanders
---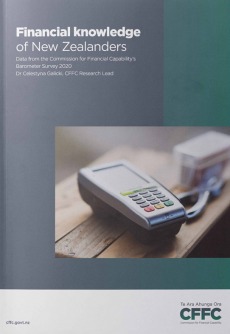 Financial knowledge is a building block of financial capability. To assess New Zealanders' competence in this area, the CFFC introduced financial knowledge questions from the OECD/INFE adult financial knowledge toolkit to its ongoing Financial Capability Barometer survey for the period January to June 2020.
The questions, answered by 3132 survey participants, measured the understanding of basic financial concepts such as interest, inflation and risk diversification. Our report analyses New Zealand's results by age, gender, ethnicity, education, employment status and personal income to identify areas of need and opportunity when targeting delivery of financial education.
Financial Capability
Introducing: Sorted Website Lead, Kate Reddington
---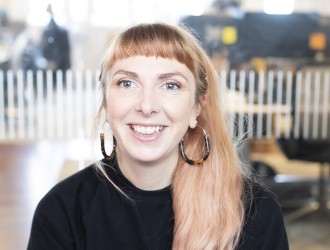 Kate joined the CFFC in 2018 as Learning Designer, and in July stepped up to become Sorted Website Lead. She's now working with the CFFC's Personal Finance Lead Tom Hartmann, Marketing & Content Lead Kelly Phillips and Digital Assets Lead Jason Gambitsis to enhance a website that's become a taonga of impartial financial guidance over nearly 20 years.
"We're exploring ways to strengthen the existing Sorted experience, and ensure that more New Zealanders can access support from the website in a way that suits them and their situation," says Kate.
Kate's background is in psychology, design and education. She loves the energy of the learning and digital industries, and has enjoyed roles in teaching and curriculum design, media production and live digital art performance.
"It's a huge privilege to be appointed as the Sorted Website Lead where I have the opportunity to connect digital, media, learning, design, strategy and leadership across an incredible organisation for a meaningful kaupapa," says Kate.
"We have an excellent team, with a huge amount of talent across personal finance, marketing and content, learning and digital excellence. I'm excited about the collaboration and developments to come."
Gold star for Sorted in Schools
---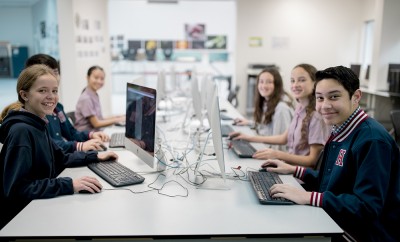 An independent evaluation of Sorted in Schools, Te Whai hua – kia ora has strongly endorsed the value of the programme, now being used in 62% of secondary schools and 60% of kura.
The New Zealand Council for Educational Research determined that in the wake of COVID-19, "the need for a programme such as Sorted in Schools, [which] builds on the circumstances, strengths, needs and aspirations of every student, including Māori and Pacific, is greater than ever".
The report found Sorted in Schools positively impacts students' knowledge and attitudes about money, and, two years after its introduction, there are early signs it is promoting positive behaviour, with students thinking and talking more about money, and using what they learned. Teacher satisfaction with the programme was also high, with teachers reporting increased confidence in teaching financial capability and intending to continue to use Sorted in Schools.

Head of Sorted in Schools at the Commission for Financial Capability (CFFC), Nick Thomson, agreed with the report that the programme's strong foundations had seen it continue to grow in use during a challenging year.

"The economic impact of COVID-19 means that building strong financial capability among young people, their families and whānau is essential to help people not only reach their life goals, but for New Zealand's economic recovery," says Thomson.
The release of the report was timely as students began NCEA exams. Sorted in Schools resources produced this year are aligned to unit standards with NZQA accreditation, enabling students to gain credits toward their NCEA qualifications by learning financial capability.
New programme for Sorted at Work partners
---
The new year will see a new programme offered to Sorted at Work partners. Sorted Sessions is an online learning platform of bite-size pieces of financial education that participants can complete in their own time. It includes sessions on spending, insurance, KiwiSaver, retirement, debt and saving and investing. Keep an eye out for more info from our Sorted at Work team.
 "Sorted changed my life"
---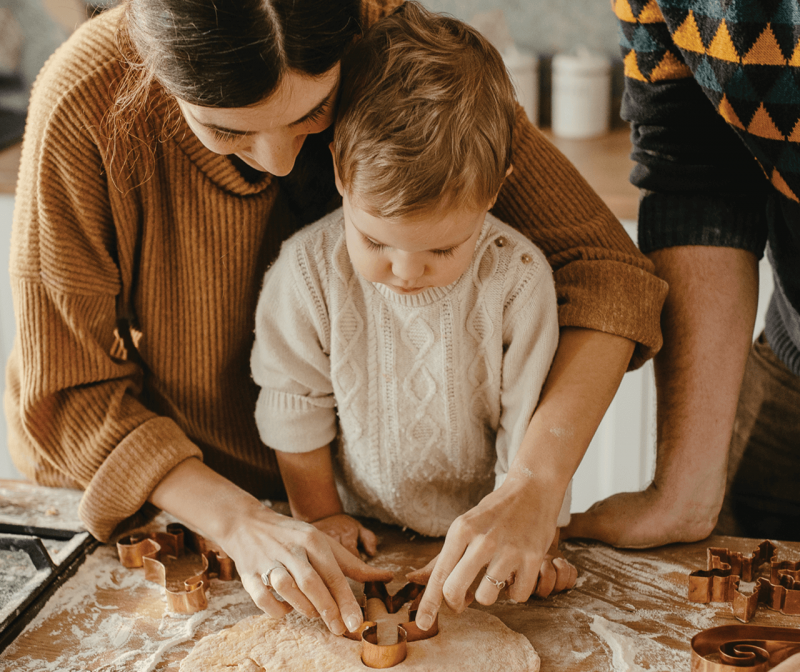 Comments given in our annual Sorted user survey made our hearts glow. We reach more than 1 million New Zealanders every year, and this year has seen record use as people search for guidance they can trust in the wake of COVID-19. Our purpose is to inspire and enable New Zealanders to think, feel and be financially well now and in the future; judging from the comments below we like to think we're fulfilling that aim:
"Ten years ago I was a financial shambles, up to my eyeballs in consumer debt. Now I own a house and a car, have savings and diversified investments, a budget, and a long term plan. So that's pretty cool - and it's why I'm giving time for this survey even though I've basically outgrown Sorted. It changed my life."
"By seeing the mathematics laid out in front of me, I've been able to understand that money is a numbers game that allows me to get control over my life. My parents never helped me learn about money and its usage, so I was really worried about my future. This site really helped put those anxieties to rest."
"It is straight-up, unbiased advice I can trust. Banks and investment companies have a vested interest and so I trust their information less. Sorted is my go-to for impartial advice."
Retirement Villages update
---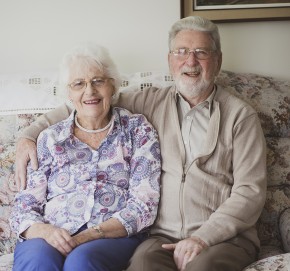 This Thursday, 3 December, we release our white paper Retirement Villages Legislative Framework: Assessment and Options for Change. Its intention is to describe the framework, discuss core issues, and start a conversation between industry, residents, and government about if and where change is desirable. We've indicated areas we think warrant further work.
The paper will available to read and download from our website on Thursday. We would like to hear what you think. Submissions are open until February 26 and can be made via a link to an online form supplied in the discussion document, or emailed to to consultation@cffc.govt.nz
We have some people news too. After a successful five years at the CFFC, our Retirement Villages Lead Troy Churton is moving on, and will finish up with us on 4 December. Since 2015 Troy has been instrumental in delivering a number of important projects for both the industry and public, including enhancing information available to those thinking about moving into a retirement village. We wish him all the best for his next venture. Troy has penned a note to acknowledge those he's worked with over the years:
A few words from Troy ...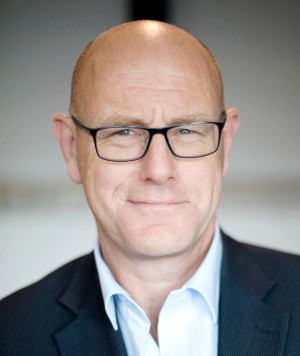 One of the things I've enjoyed most about this role over the past five years is making a difference to many people's lives. Our public education programme has seen me meet people from Kaitaia to Invercargill, listening to often vulnerable residents and helping families make the emotional decision of whether to sell the family home and move into a retirement village. We've received heartfelt thanks for our ability to help people navigate sometimes complex situations at an emotional time in their lives.
It was satisfying to produce a catalogue of written information for consumers, and to receive the 2018 Writemark people's choice award for plain English for our booklet Thinking of Living in a Retirement Village.
I have been fortunate to build many trusted relationships with operators, supervisors, financiers, Ministry officials, community groups and residents. The CFFC's annual stakeholder forums enabled constructive discussion, and I also enjoyed holding resident-only forums where residents could express concerns in confidence, chairing professional education sessions for lawyers, and providing impartial information to the public through the media.
Research projects and reports have led to improvements in information provided by operators to consumers, such as the summary of key terms used in ORAs, and a set of disclosure guidelines for transfer into care. We were also able to help facilitate variations to the Code of Practice in 2016, and I leave with a new discussion document on the regulatory framework about to be released.
Although I'm starting a new executive role in February, I'm looking forward to staying in touch with the industry through consultancy work offering independent third-party facilitation in complaint or dynamic situations between residents and operators, and support services to supervisors or villages exempt from supervision.
My thanks to the industry for their collaboration over the years, and to the many residents and their families we've been able to assist. I leave confident the public understanding of how retirement villages work has grown exponentially in my time here, working alongside a high-performing, agile team.
__________
We are recruiting for a Retired Persons Lead, who will lead our retirement villages work, as well as contributing to work on pensions policy. If you're interested in the role, please check out the advertisements on Seek and LinkedIn, or contact our Director - Policy, Dr Suzy Morrissey via suzy@cffc.govt.nz
__________
Thanks to all our partners for their help and support during a difficult year. We'll be back with another update in early 2021.
A very Meri Kirihimete to you all.