Financial capability is more than money
---
Financial capability goes deeper than what we know about money. It's feeling confident to make wise judgements about how we use and manage our money in ways that benefit us now and in the future, enables us to reach our goals, provide for our family and ultimately reach retirement in good financial shape. It's about wellbeing.
What influences our decisions?
Information about money – 'what we know' – is only one element. Other factors diminish or build our financial capability. They include the way we've been brought up and the habits we've formed. Our family or culture's attitudes towards money and the expectations of us in how we manage money all affect our decision making. Our emotional response to having or not having money, the choices the government gives us about what to do with our money, and the ways in which we can be influenced by others about money all play into our financial capability. This graphic illustrates the influences on financial capability (click the image to enlarge).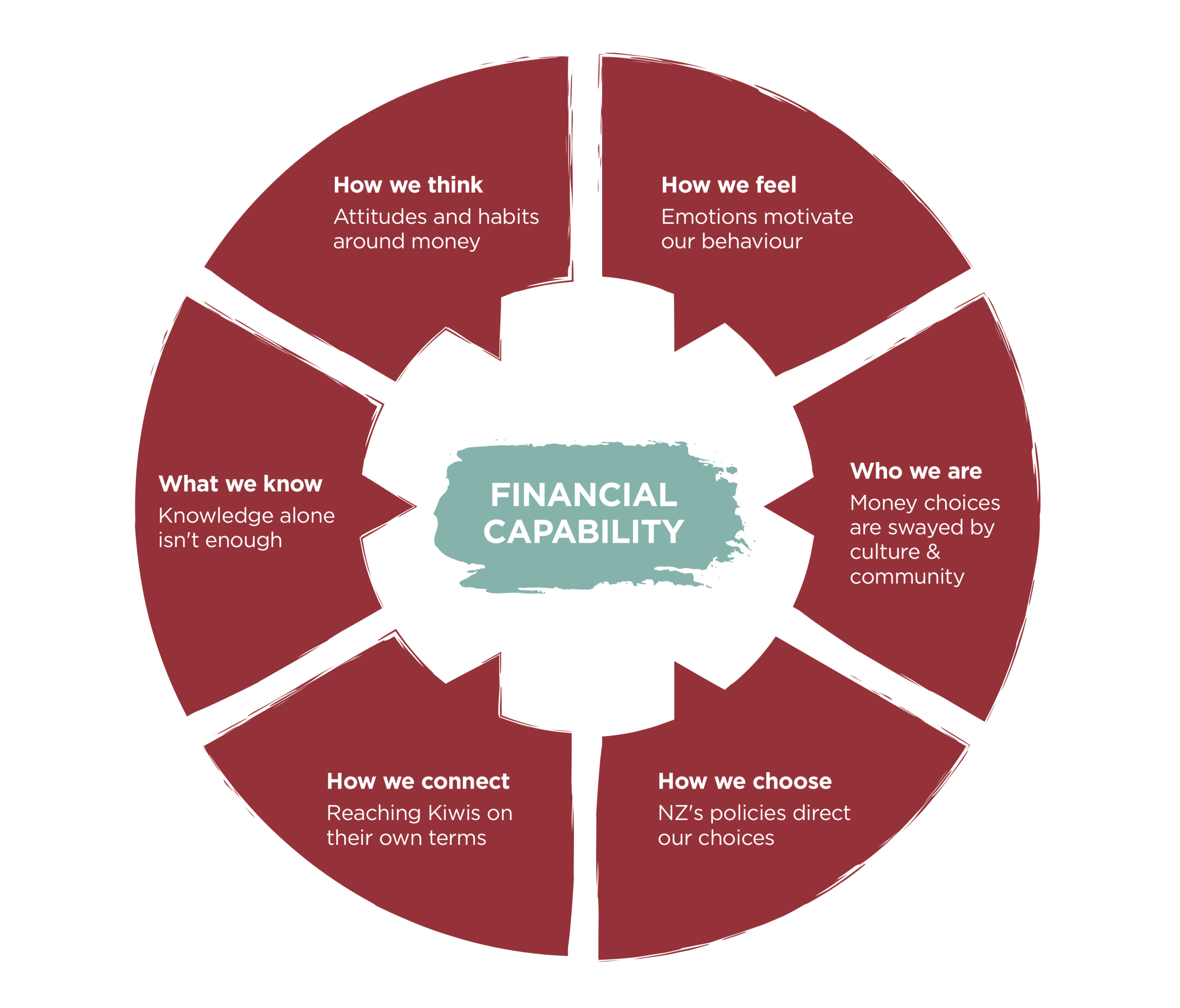 Everyone's attitude to money is different
---
We understand this and take the diversity of motivations into account to inform our work. By unravelling what motivates people, our financial capability programmes help support lasting behaviour change.
Improving New Zealanders' ability to manage their money across a lifetime gives individuals greater financial certainty and freedom. It helps to reduce hardship among families, creates resilient communities and a more prosperous and productive economy.
We recognise financial capability as an essential life skill for all New Zealanders.
Financial capability is a community, an entire sector
---
The National Strategy for Financial Capability envisions everyone understanding money. To accomplish this, it aligns organisations and agencies working in the financial capability sector to issue consistent content, work together, and demystify money. It also focuses on priority audiences – women, Māori, and Pacific peoples.
Why is financial capability important?
---
New Zealand is experiencing an unprecedented demographic change with an ageing population. Migration, fertility and mortality rates are shifting our population's age structure, ethnic mix and ratio of workers to retirees (the dependency ratio).
New Zealand society is also experiencing changing social norms in how much we buy and consume, and the way we view debt. Technology and easy access to high-interest credit have made debt easier than ever to acquire.
When today's demands drown out tomorrow's thoughts, we aim to cut through the noise to inspire New Zealanders to focus on their financial wellbeing, providing the tools and knowledge to help them carve out a healthy financial future.
Money Stories
Francoise's Money Story: Climbing Out of Debt
Francoise's Money Story: Climbing Out of Debt
Sophia's Money Story: What Happened When I Lost My Job
Live Sorted
Our Sorted website has an array of tools, guides and blogs to help people on their journey towards financial wellbeing.