Hello from Jane
Kia ora koutou katoa and welcome to the second edition of our quarterly update for our many stakeholders across the government, community, iwi and industry sectors.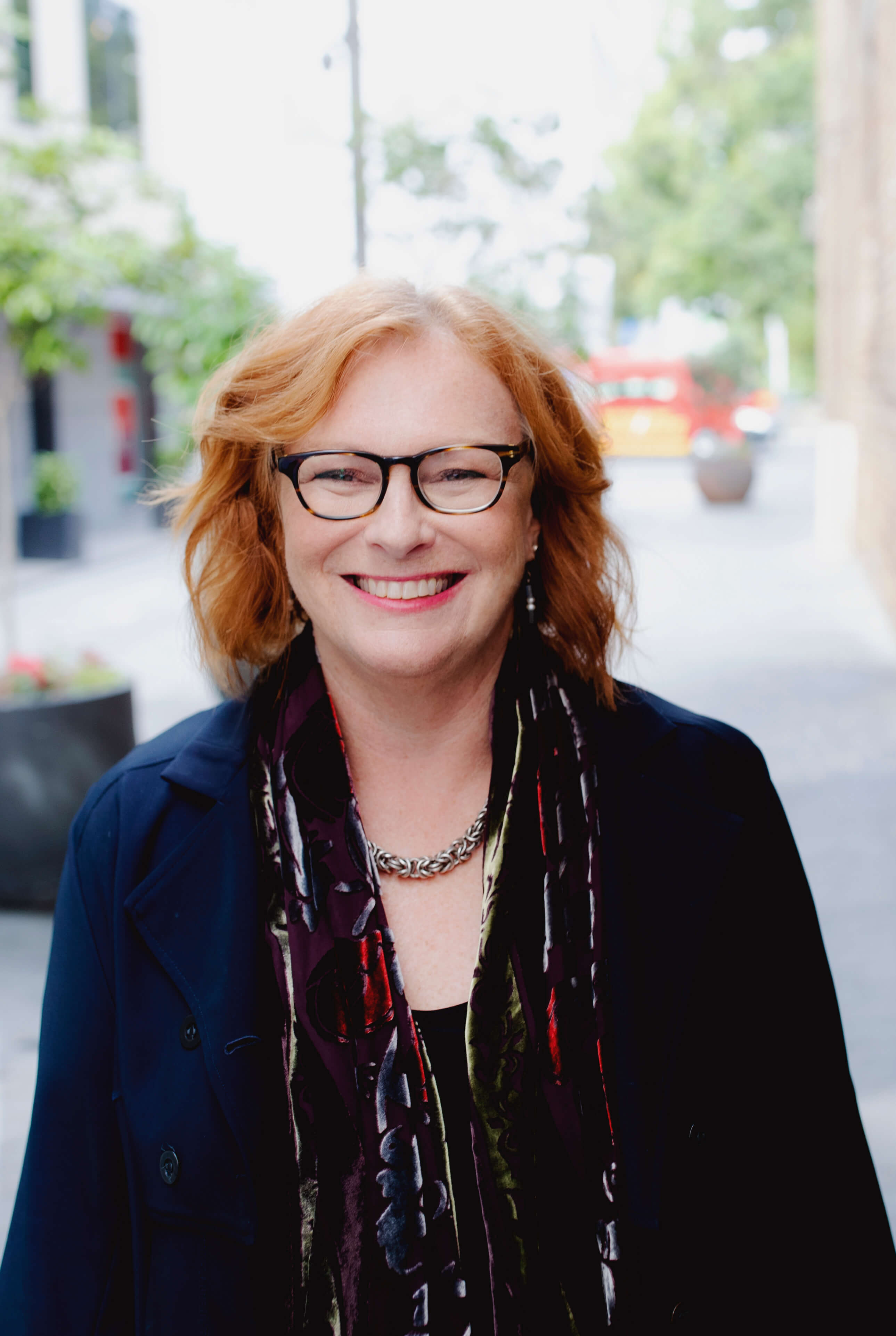 ---
It was wonderful to see so many of you at Parliament last week for the launch of the new National Strategy for Financial Capability (more on the event below). There were representatives from a wide cross section of the financial capability community, and everyone was enthusiastic to see the refreshed Strategy get off the ground. Our thanks to the Minister of Commerce & Consumer Affairs, Hon Dr David Clark, for launching the strategy on our behalf. Congratulations to Banking Ombudsman Nicola Sladden for winning the fin cap quiz!
Now the work begins! I've already shoulder-tapped a few of you to lead projects; by working together on creating consistent content and targeted campaigns we'll be able to better help New Zealanders understand money and enhance their financial capability for the benefit of their whānau, communities and Aotearoa.
Governance of the Strategy is the next step. Shortly I'll be contacting the heads of the main industry bodies to assist so we can keep track of progress.
Preparation for Money Week 2021 is well under way. Our next National Strategy webinar for the financial capability community on May 5 will be dedicated to sharing ideas and discussing possibilities as we expand on last year's theme of 'Just wondering', encouraging New Zealanders to ask questions about money. I hope you can make the webinar.
Detailed below are a series of papers and reports coming your way over the next few months, and a couple of events to save the dates for. We'll publish significant new research tracking the financial capability of New Zealanders mid-year.
Soon you will hear from us under a new name – Te Ara Ahunga Ora Retirement Commission, better reflecting our purpose in empowering the people of Aotearoa on their journeys to a better retirement. While enhancing people's financial capability is a crucial aspect of what we do, it is not the principal reason we exist. The name Te Ara Ahunga Ora, gifted to us by Professor Pou Temara, acknowledges the state of wellbeing we aspire to and points to the pathway to achieve it. Te Ara Ahunga Ora Retirement Commission reflects the different journeys we take towards retirement and returns us to our core purpose.
Of course financial capability will remain central to our work – I look forward to collaborating with you as our fincap network strengthens and grows, helping New Zealanders think long term to improve their financial outcomes and, ultimately, achieve dignity and mana in retirement.
Jane Wrightson
Mana Ahungarua / Retirement Commissioner
Minister launches the National Strategy for Financial Capability
---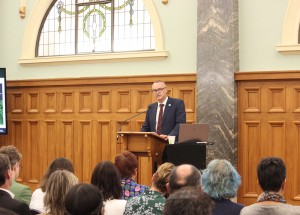 The new National Strategy for Financial Capability was launched at Parliament on 15 April by the Minister for Commerce & Consumer Affairs, Hon Dr David Clark. About 100 representatives of the financial capability community attended, and also heard from Retirement Commissioner Jane Wrightson and the leader of the project to reimagine the Strategy, Dr Brenda Leeuwenberg.
The refreshed Strategy has a focus on aligning and strengthening the financial capability community. Through working together, collaborating on crunchy initiatives like developing a shared evaluation framework for measuring impact, and communicating consistently and clearly, we will help New Zealanders to understand money.
The Strategy identifies three priority audiences which we hope you will be reflected in your upcoming initiatives to increase our collective heft. They are women, Māori, and Pacific Peoples. Thanks to the FSC and the NZBA for stepping up to lead two of the initial strategy projects – and we look forward to hearing of many more. By providing resource and support to strengthen financial capability within these priority groups, the benefits will ripple throughout New Zealand.
We'll be running regular webinars and an annual hui to share information and foster connections. The first of these is on 5 May, a webinar focused on Money Week. We'll be checking in on where you're at with your projects and keeping the channels of communication open across government, iwi, NGO and industry groups.
The Strategy can be found on our website, along with details of the plan to bring it to life. The work is only just starting!
Policy & Research
---
Policy paper series
The CFFC has launched a policy paper series to scale up our work in leading policy thinking. These quarterly papers are designed to inform the public about retirement income policies. They will simplify complex policies and provide a useful reference for consideration of any potential changes to policy design.
The first paper (2021/01) was released in March and considered the policy implications of the Retirement Commissioner's purpose statement for the retirement income system, released in late 2020. The Paper is available on the CFFC website as a one-page summary and a short eight-page paper.
The next paper (2021/02) will be released in June. It will provide an overview of retirement income policies in the OECD and explain how New Zealand compares.
Expert Advisory Group update
The Retirement Commissioner's Expert Advisory Group (EAG) has been discussing decumulation (the conversion of assets into retirement income) and has concluded there is an opportunity to include this issue in the work of the CFFC and the National Strategy, due to the first wave of KiwiSaver investors approaching retirement with a useful nest egg. Also discussed were possible topics for the 2022 Review of Retirement Income Policies, and Dr Kathie Irwin's scoping of the project on what retirement looks like for Māori.
Latest research: Triggering financial behaviour change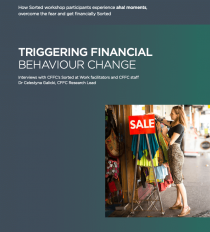 The CFFC's wonderful financial capability facilitators are at the coalface of helping New Zealanders change their behaviour with money, delivering a range of seminars and workshops in workplaces and the community under the Sorted brand. Our Research Lead, Dr Celestyna Galicki, interviewed a number of them, along with CFFC staff, to gain their insights on how behaviour change happens and what triggers it. The result is this detailed guide on best practice in the delivery of financial capability workshops.

Coming soon: The New Zealand Financial Capability Survey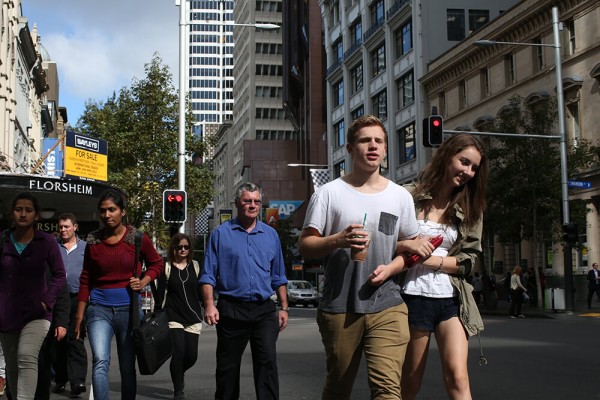 A significant report from a new annual survey will be shared with stakeholders and the public mid-year. The New Zealand Financial Capability Survey of more than 3000 people will provide detailed information on financial wellbeing, knowledge, confidence, attitudes and inclusion of New Zealanders. Based on the financial capability model of Professor Elaine Kempson, the initial survey will set the benchmark for reporting on annual tracking and trends and will be widely shared to help inform the sector.
Older Persons' Forum to be held in August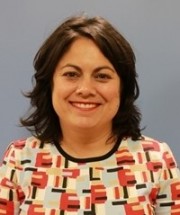 The CFFC is holding its first Older Persons' Forum from 24-25 August in Wellington, to be opened by the Minister for Seniors, Hon Dr Ayesha Verrall.
The forum will bring together stakeholders from across the retirement sector to discuss current and emerging issues faced by retirees. Discussions will help inform the Terms of Reference for the upcoming 2022 Review of Retirement Income Policies. Topics for debate will include housing and employment for older people; and the Office for Seniors will share its draft Action Plan for Older Workers. We look forward to meeting with stakeholders to consider how to help improve retirement outcomes for future retirees.
Financial Capability
---
Sorted.org.nz update

The Sorted mouse leads our 6 Steps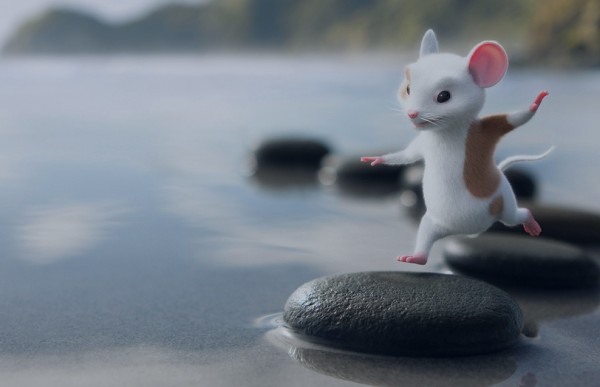 In 2020, the Sorted mouse returned to screens across New Zealand as a reassuring figure helping Kiwis to access the financial information they needed during the pandemic. The team at Sorted has now breathed new life into the previously retired mouse and he now leads the visual look and feel for the refreshed Sorted 6 steps on Sorted.org, helping Kiwis take control of their money one step at a time.
Targeting a younger audience
As part of our audience strategy help younger Kiwis make sense of money, Sorted.org has also launched a new campaign across major youth media channels including TikTok, You Tube and gaming site Twitch. The campaign uses a disarming anagram to catch attention before providing the solution.
Shed your debt with Sorted
Shed your debt with Sorted
---
Money Week 2021


Money Week is 9-15 August. We're sticking with the Just Wondering campaign territory as this proved popular last year with consumers and stakeholders. We're working hard to get everything ready early this year, including hosting a webinar on 5 May for anyone who wants some inspiration on how to leverage the week internally with staff or externally.
Raising awareness of new financial advice regime
Following Retirement Commissioner Jane Wrightson's public statement in support of the regime change, Sorted.org included messaging for consumers looking for professional, personalised advice. We redesigned the Getting Advice guide, updated the Investment Advice guide, published a blog article to help consumers understand the new landscape, and highlighted this on the Sorted homepage.
Sorted in Schools
Achievement standard resources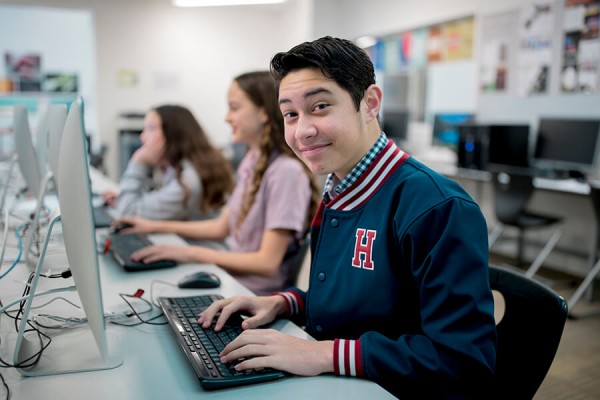 Sorted in Schools recently launched new financial capability resources aligned to Economics, Mathematics and Statistics achievement standards. The resources are designed as a module to provide students with the opportunity to gain credits towards NCEA qualifications through a financial capability lens. You can learn more about this work here: NCEA Toolkit
IRD partnership
The CFFC and IRD have teamed up to develop resources to help young New Zealanders learn about tax through the Sorted in Schools programme. The resources will be launched for secondary schools later this year.
Brain Busters partnership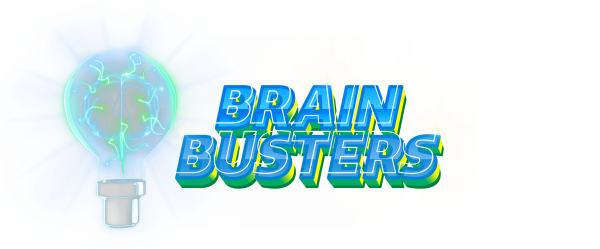 Sorted in Schools has partnered with TVNZ's Brain Busters to integrate financial capability questions into the show, extending the reach and awareness of Sorted in Schools to students and their families. Brain Busters is a fun quiz show targeted at students aged 12-16, reaching close to 2000 students on average every weekday.
Money Jam budgeting competition
Global Money Week (22–28 March) marked the start of our Money Jam budgeting competition, which encourages students to create a plan and budget for a fundraising event, such as a market day or talent show. Two winners are selected, and awarded funding to put their event into action. The schools also receive a visit from Brain Busters hosts Chris Kirk and Mikey Falesiu.
Last year Cambridge High School was one of the two competition winners. Their community movie night raised $4000 for the Salvation Army and Asthma Waikato. The other winner was Auckland Grammar School with a budget for a community tree-planting day at a regional park. Entries to this year's competition closed last week. We'll announce the winners in the week commencing 10 May.
Sorted in Schools newsletter
Last week we sent out the first issue of a new quarterly newsletter updating our Sorted in Schools stakeholders on the programme's progress. If you're not yet on the mailing list and would like to be, please email schools@cffc.govt.nz
Sorted at Work

Launch of Sorted Women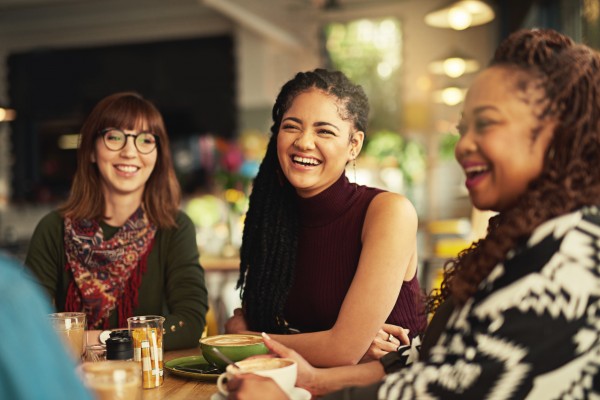 A new course to help women become more confident with money was launched in March to coincide with International Women's Day. Designed and delivered by women for women, Sorted Women provides a safe and non-judgmental space for women to learn money skills that will help close the financial knowledge gap many face. Sorted Women is offered as a two-hour workshop (face to face or via webinar) or as a two-day course.Here's where you can learn more about Sorted Women and book a workshop or course: Sorted at Work
Launch of Sorted Sessions
A free online learning space to improve financial capability skills is now available to the public. Sorted Sessions is a user-led programme, comprising six topics covering the financial wellbeing cycle – from mindset and spending plans, to debt and KiwiSaver, along with insurance and investing. Users can start where they like and travel at a pace that suits them.
Sorted in Communities

Kāinga Ora partnership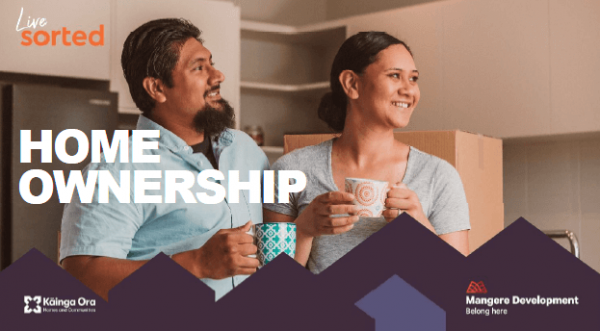 A series of home ownership information sessions in partnership with Kāinga Ora's Mangere development team has seen great uptake among the Mangere community. Weekly workshops began this month and will be held over eight weeks, focusing on improving financial capability among families aspiring to home ownership.
MPP partnership
As part of our ongoing focus to enhance the financial capability of Pacific People, the CFFC has signed an MOU with the Ministry of Pacific Peoples (MPP). Over the next four years we will build the financial capability of 1200 Pacific households and assist them in achieving their housing aspirations.
Retirement Villages
---
Introducing Dr Michelle Reyers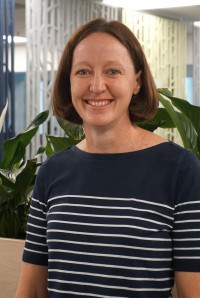 Michelle joined the CFFC as Retired Persons Lead in February. She came from Massey University where she was a senior lecturer in the School of Economics and Finance. She is a CFA® Charterholder and spent a number of years working in the finance industry before moving to academia to pursue a PhD. Her PhD and subsequent research focused on financial capability and financial decision-making, particularly related to retirement decisions.
In her role for the CFFC she will be looking at the various issues faced by retired people, and those approaching retirement, to inform retirement policy development. She is also responsible for the operation of the CFFC's statutory role in overseeing a fair regulatory framework for retirement villages.


White paper report due mid-year
As many of you are aware, last December we released a white paper called Retirement Villages Legislative Framework: Assessment and options for change. We received more than 3000 submissions from individuals, the RV sector, and other stakeholders – many thanks to those who took the time to send us their thoughts. We are now analysing the submissions, and will produce a summary report for release mid-year.

Retirement Village Stakeholder Forum in August – save the date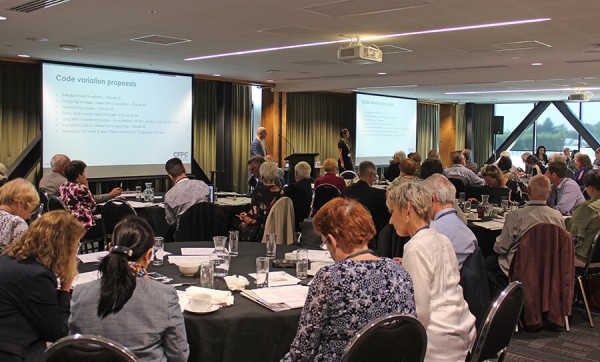 We were not able to host our annual retirement village stakeholder forum last year so we are delighted to announce that this event is back on the calendar for 2021. It will be held in Wellington on 23 August, the day before our first Older Persons' Forum (see above). Presentations will include a summary of feedback received on the White Paper. We will be in touch with retirement village stakeholders with further details.