Three years ago, the Armstrong whānau found themselves homeless, living in a friend's garage after being asked to leave their previous rental with a month's notice.  


---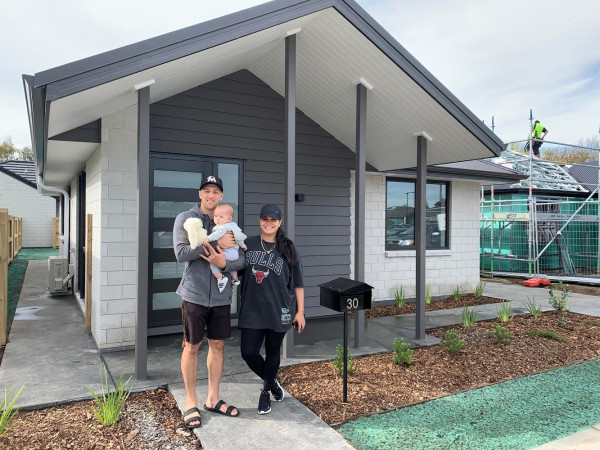 Today, Ben Armstrong is the proud owner of a three-bedroom, two-bathroom new build in Hamilton, where his two-year-old son Leo has his own bedroom and a place to call home.
"For six months to a year, we had to constantly pinch ourselves, expressing to each other on numerous occasions that we thought we were staying in an Airbnb and had to leave the next day. Coming from a single, then double garage just over a year before to this brand-new whare, was mind blowing," he says.
The turning point for Ben came when he completed the Sorted Kāinga Ora programme – a home ownership programme jointly created by Te Ara Ahunga Ora Retirement Commission and Te Puni Kōkiri, dedicated to helping build the financial capability of whānau Māori.
Prior to 2019, they had never seen homeownership as a priority. Their renting situation had been good – an affordable one-bedroom granny flat left them with some disposable income to travel and start a business. But that shifted when they were asked to leave the rental suddenly.
"I thought we'd be there for years, then one day the husband told me on the way home from work that their daughter-in-law was moving home. We had a month until we had to leave. It really rocked me, I felt like I had no control."
With a tough rental market, Level 4 lockdown, and a fluctuating income while starting a new business, they found it near impossible to find a place. By the final week of moving out, having nothing set in place, a family friend offered her single garage as a temporary place to stay while they kept looking.
With no luck, as the country moved out of lockdown, Ben asked his parents if they could move back to the home he grew up in. His father agreed under one condition - that he made it his number one priority to save for his own home, starting off with committing to an online Sorted Kāinga Ora course.
With few other options, Ben and his whānau reluctantly accepted the challenge. Initially, they thought that with $25,000 debt over their heads, Ben being self-employed and their first-born only months away, it would be at least a 5–10-year journey. So, they upgraded from a single non-insulated garage to his parent's semi-insulated double garage in Papakura and started the course.
Progress came quicker than expected.
"The wananga was a great experience. I had all these lightbulb moments. I was connected to real opportunities and things I'd never heard of like shared ownership and rent-to-own. I just hadn't realised how close we were. Between KiwiSaver, first home grants and other sources, we were so close."
From there, the whānau were guided by Waikato-Tainui and the Housing Foundation to look at a brand-new home that Waikato-Tainui had available in their first affordable housing project Te Kaarearea in Hamilton East.
"They held our hands through the whole process. We went to the bank and they said we had to pay off all our debt – with me being recently self-employed they didn't want any risk."
Ben and his whānau set out on clearing their debts. They sold some things, including a car they'd bought on finance which they replaced with a more affordable one, and Ben worked hard to sign some new contracts.
"Things just started happening. We were able to pay off $25,000 in consumer debt and were provided with a house through the project that we could work towards. It was a 3-bedroom, 2-bathroom place with a single garage worth $560,000 at the time. We thought we'd cracked it," he says.
They got through the preapproval process with the banks coming up with an expected 70% of the total house price and were picking out the colours for the inside of the house.
That was when the bank found out he and his wife were expecting, which they hadn't shared yet due to medical risks related to the pregnancy. This information led the bank to significantly decrease the amount they were pre-approved for.
"It was a real setback, but we were determined to keep going. Waikato-Tainui showed us some other houses and we found one for just over $500,000. My parents were in the position, as homeowners, that they could help us out with a loan to make up the deposit."
That gave the whānau the support they needed to get the keys to a three-bedroom, two-bathroom new home in Hamilton. Ben moved in on April 29th 2021, three days before his birthday, and has been settled there since.
"The impact for my whānau has been massive! To know that we can decide when we leave or stay, to know that our boy has his own room, his own space he can feel comfortable in, and that we have the control of knowing that we own this place, is an amazing feeling," he says.
Sorted Kāinga Ora was developed by Te Ara Ahunga Ora Retirement Commission and Te Puni Kōkiri, building on other Sorted programmes. It supports financial capability for whānau, with an added housing focus.
Find out more about the Sorted Kāinga Ora programme here.